Waffle-Bike: Coffee-Bike GmbH broadens its mobile franchise concept
14. Juni 2017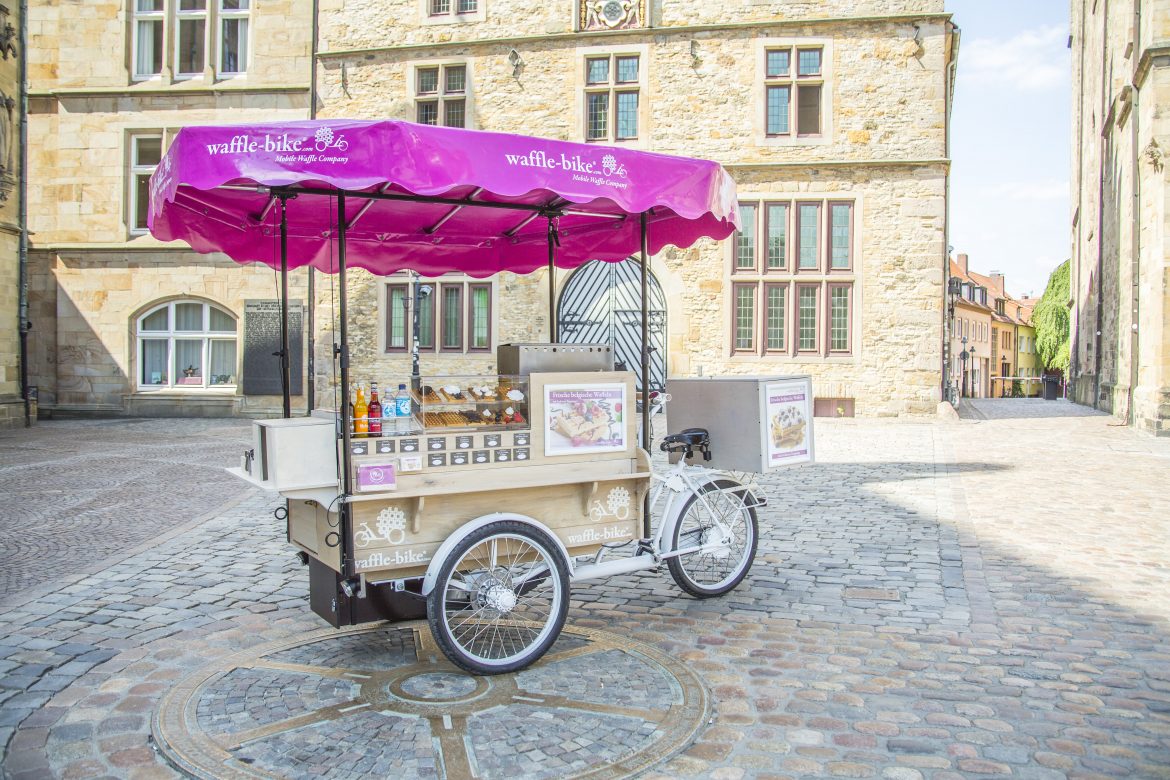 A waffle bakery on three wheels
The Coffee-Bike franchise is among the fastest growing franchise systems in Germany. Since its founding in 2010, more than 200 mobile coffee shops are operating in 17 countries worldwide. Now, the company is taking its experience and know-how of the mobile shop to expand to another mobile and gastronomic concept: the Waffle-Bike.
"The Waffle-Bike is a complete waffle bakery on three wheels that – exactly like the Coffee-Bike – is designed with mobility and flexibility in mind. The self-contained waffle station can be used year-round thanks to our technical Know-How and our experience in all types of market challenges including the certifications for hygiene, safety, food safety regulations, etc." says Tobias Zimmer, CEO of Coffee-Bike GmbH.
Equipped with a professional waffle iron, multiple storage spaces, an integrated refrigerator and other unique characteristics, the Waffle-Bike offers an extensive product portfolio. Right in front of the customer's eyes, an original Belgian waffle is freshly made in a matter of minutes. Next to basic waffle recipes, diverse specialty toppings such as fruits and chocolate are offered.
In order to keep start-up costs low, the franchise company from Osnabrück offers entrepreneurs the opportunity to buy or rent the Waffle-Bike. Furthermore, Coffee-Bike supports all new Waffle-Bikers with intensive training programs, a technical support service that operates outside of business hours, and an ongoing personal support.
At the beginning of July, the Waffle-Bike team is going on a Germany-wide tour to give potential franchisees the opportunity to experience the Waffle-Bike in action. The Waffle-Bike information days will go into detail about the mobile franchise concept, and will be held in Hamburg, Berlin, Nurnberg, Munich, Stuttgart and in the central headquarters in Osnabrück. Interested parties can register online for the non-binding information days at www.waffle-bike.com
Ähnliche Artikel
Über den Autor
Christina Gloesekoetter